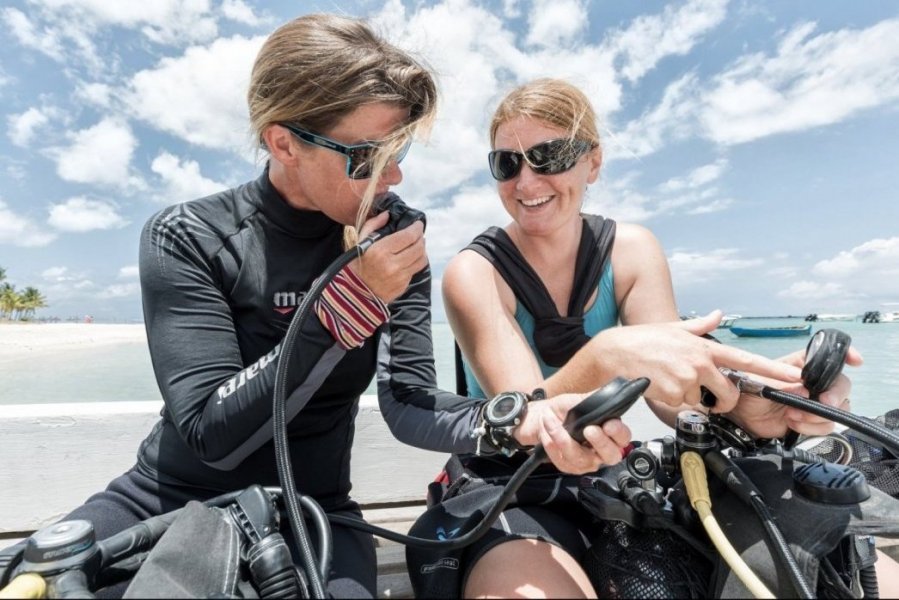 Start Scuba Diving today
Have you ever wanted to learn how to Scuba Dive but don't know where to start?
Make your dream come true by taking part in one of our introductory courses. We give you the chance to get an insight into a fascinating new world.
Offering you our complete commitment, passion, and knowledge we provide you with a unique underwater adventure here in Mauritius.
Dare to take your first step on our side and it will probably become one of the greatest experiences of your life.
Your journey will start with a comprehensive theoretical introduction provided by one of our Diving Center Instructors. It is here you will learn the basic rules of diving and become familiar with the equipment used in Scuba Diving. Therefore, it will be our pleasure to answer any questions you might have.
To be perfectly prepared you can read the introduction online.
After you have covered the theory you will then proceed with the practical section of the introduction. This is carried out in the Lagoon of Flic en Flac under the guidance of your Instructor. The practical section consists of a few short, simple exercises that offer you a basic knowledge of how to use your equipment. Our objective with this section is pure to familiarize you with the necessary tools.
Once you have completed these few steps there is nothing left to stop you from enjoying the wonderful adventure of diving in Mauritius. All that is left is a short boat ride to one of our, specially selected, beginner's diving spots where you will be immersed in the fascinating underwater world. We also ensure that your Instructor is by your side throughout your session.
Welcome to the Fascinating world of Scuba Diving …
All you need to know:
We accept bookings at least a day in advance.
Courses are offered every day at 8 o'clock (except on Sundays).
All you need is a swimsuit, a towel, and a good mood, the diving center will be able to provide you with any further equipment.
The price for a trial dive is 65, – € (including equipment and insurance).
For more information, please use the form below or feel free to send an email.
Want more?…
Why not continue your adventure with us by completing your Open Water Diver Certificate, taught regarding the Standards of SSI or CMAS.