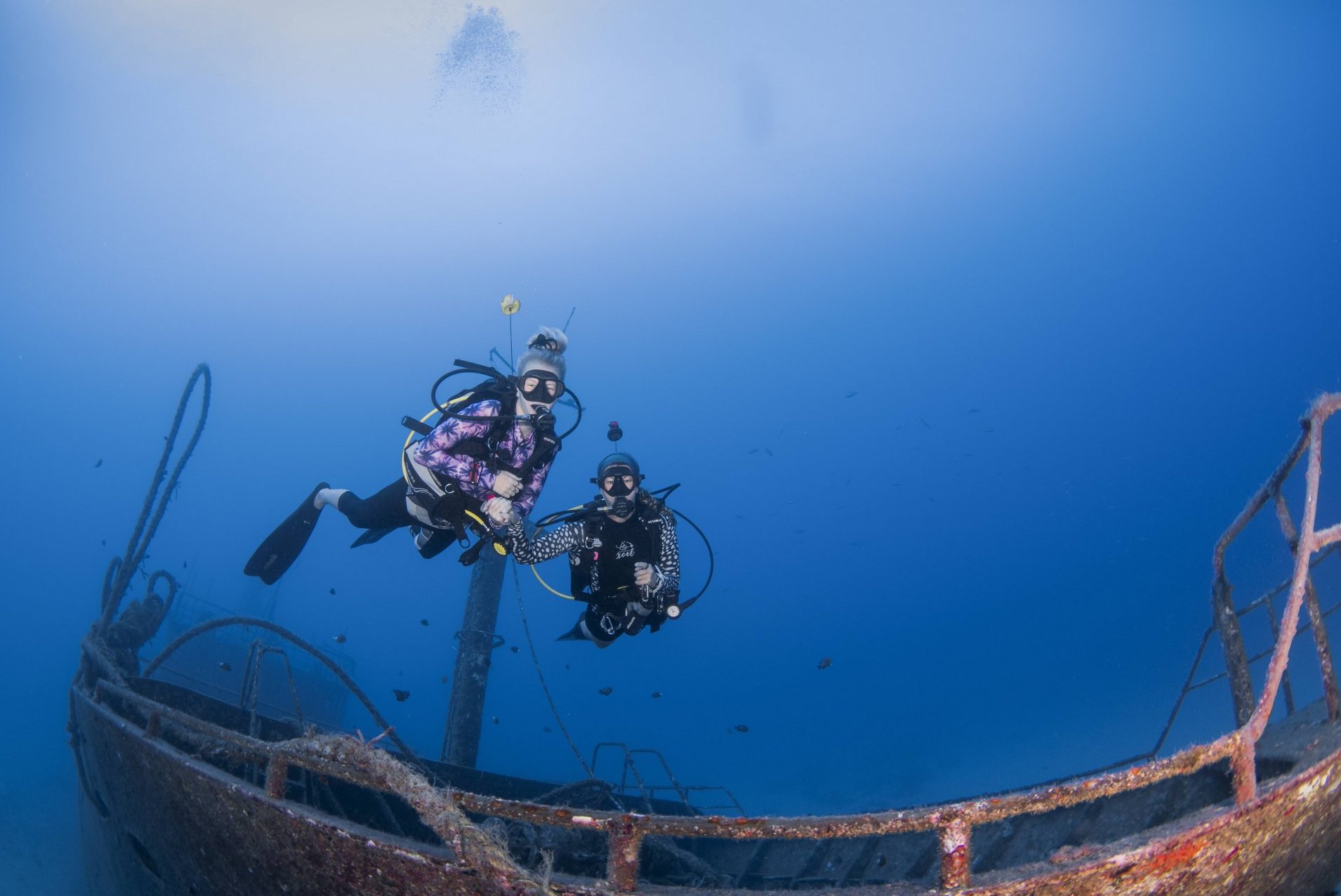 Over 25 of the best Dive Spots in Mauritius within a 15-Minutes Radius.
Reefs, Shipwrecks, Drop Offs, Caves, Arches… for each level.
So far Mauritius remains relatively unknown for its impressive diving destinations and it is for this reason you will be surprised by the variety of diving spots it provides. The underwater world of Mauritius offers breathtaking seascapes from a volcanic origin and is home to many unique rock formations. The diversity of fish and sea life found in this area of the Indian Ocean will certainly impress and enchant you. Due to the low wind conditions the west coast is perfect for diving and offers up a wonderful array of Flora and Fauna. The weather conditions here make for an unusually calm sea, which will make for a comfortable dive experience. Flic-en-Flac offers a wide variety of attractive diving spots within a 5-15 minute radius so there is no need for a long journey before your dive. These sites range in depths and include Drop offs, caves, reefs, as well as five shipwrecks to be explored. Due to its low wind conditions, the west coast is perfect for diving. There one can find marvelous Flora and Fauna. The weather conditions on the west coast are very good, so an unusual calm sea without huge waves will make your dive a comfortable experience.
In the immediate vicinity of Flic-en-Flac (5-15 minutes), you will find a variety of attractive diving spots at different depths, including Drop Offs, caves, reefs and five shipwrecks which prevent any long navigation time.
Caves and Arches
Cathedral: With a max. depth of 28 meters, the Cathedral is the most well-known diving spot of Mauritius, Accessible for experienced divers, a combination of caves and chimney duct (Drop Off) makes this dive site unique.
Swiss Drop: is the Drop Off area situated around the Cathedral, having a more accessible passage and a shallower depth of max. 23m. The Swiss drop is also convenient for the less experienced diver.
Colin Bambous: A combination of a fantastic Drop-Off, reef section, and Cave. Due to his depth of about 34m, this diving site is suitable for advanced divers who are specialized in "Deep Dive" or possessed at least a CMAS Level 2 accreditation.
L`Eveillé: proposes a very pleasant diving experience alongside a Drop-Off including a small arch at 25m. L'Eveillé can be combined with another diving site called "Tokata," an Anemone garden situated in the direct vicinity.
La Prairie: pleasant Drift Dive, which can combine ideally with a Drift Diver Speciality Course.
Reefs:
Aquarium: Between 5 to 20 meters, ideal for beginners due to a multitude of colorful reef fish living there.
Snake Reef: Fish and photographers paradise. Situated at 25 m, a reef section gathering a huge variety of fish concentration. As from the Lionfish, Scorpionfish, Stonefish, moray eels of different sizes as well as the smaller species such as slugs and leaf fish. Snake reef is also known as "Rempart Serpent" is a diving spot that will impress your eye.
Big Rock: Beautiful drift drive, easily accessible for any qualified diver offering an architecture for a deeper dive (26m max) or a shallower dive (20m Max). If the conditions are good and a smooth current is present, Big Rock is one of the diving spots where you might have the opportunity to see eagle rays drifting.
Canyon: Another drift dive with an overwhelming underwater seascape, having a deep depth of up to 35m max. It's a diving spot accessible to advanced divers who have a qualification in "Deep Diving" or min. CMAS level 2.
Canon: An ideal spot for beginners with a small steep slope and beautiful sandbank, ideal for improvement of buoyancy. Ideal for photographers because it offers a rich variety of fishes and smaller species for those who are passionate about Macro Photography.
Sweet Lips: Reef with little relief, simple access, proposing a relaxed dive with a max depth of 19m. Sweet Lips also offers a diverse fauna which is ideal for photographers.
Battery: Similar to Sweet Lips, ideal for a relaxed dive, ideal for photographers who want to take their time and feel at ease.
Roche St. Anna: Huge sandbank with few rocks, offering ideal condition for training and exercises when it comes to any diving practical exam.
Shipwrecks:
TUG II: 18m depth; ideal for beginners and photographers, a small shipwreck without any interior access that has been barely affected by the sea condition. Situated in the middle of a sandbank, it proposes a huge concentration of fishes, which will delight photography lovers.
KEI SEI 113: Is often combined with Parc situated at 36m depth. Kei Sei is an old Japanese fishing boat that was immersed over 30 years ago as an artificial reef.
St. Gabriel: 36m, very similar to Kei Sei. An old Japanese fishing boat that has been immersed so as to create an artificial reef. Both wrecks are approximate of the same age but St. Gabriel is pretty much intact
L'Orient: Before "TiangXiang" is was the largest wreck in front of Flic en Flac that could be found at this depth (38m). Due to the fact that at least CMAS 3 *** or Deep Diver Specialty PADI or SSI permission is a prerequisite for this dive, only a few divers have experienced this shipwreck.
TiangXiang: max 45m, the youngest shipwreck, sunk on June 17th, 2014. We have participated actively in this spectacular event.
Deep Dive Sites:
Deep Dives are possible only with small groups sizes. The ratio of instructor to divers should be, 1: 1 or 1: 2.  The divers should also have a qualification or accreditation corresponding to CMAS level 3***
Park: max. 45m, a section of colorful reef, close by one of our shipwreck dive sites thus often combine together.
Manioc: max. 45m, a single coral formation on a sandbank.
Black Forrest: max. 45m, according to the name, it's a spot filled with huge black corals.
Madrass: 50m, having a rock formation surrounded by a sandy ground.
Rempart L'Herbe: max. 55m, offering a stunning rock formation.
Cavern Moe: 60m, cave.
Corail Rose: 40-55m deep, a pink coral reef that is situated on the flat side of the dive site, with a small passage and individual rock formations with big black corals.
According to the type of diving site or the depth, we also offer training such as SSI or PADI Speciality Ship Wreck Diver, Deep Diver, Drift Diver or Advanced Open Water Diver (CMAS Level 3 and Level 4).